Smoke free environments are the only way to protect people from the devastating health impacts of second-hand smoke (SHS), and there is a significant amount of research to support this strategy. Importantly smoke and vape free areas assist in denormalising the use of these products.
The Tobacco Products Control Act 2006 (WA) sets out a series of state regulations, making a number of public places smoke-free.
These include:
in enclosed public places (such as shopping centres, hospitals, cinemas, theatres, pubs, clubs and restaurants);
within 5 metres of a public entrance to an enclosed public place;
within 10 metres of air conditioning intake in or on an enclosed public place;
in outdoor eating areas, unless in a designated smoking area in liquor licenced premises;
between the flags at patrolled beaches;
in vehicles carrying children under the age of 17; and
within 10 metres of children's playground equipment
Other legislation prohibits smoking:
in enclosed workplaces;
on public transport services and premises/facilities displaying a 'no smoking' sign; and
on all domestic and international flights operated by Australian airlines.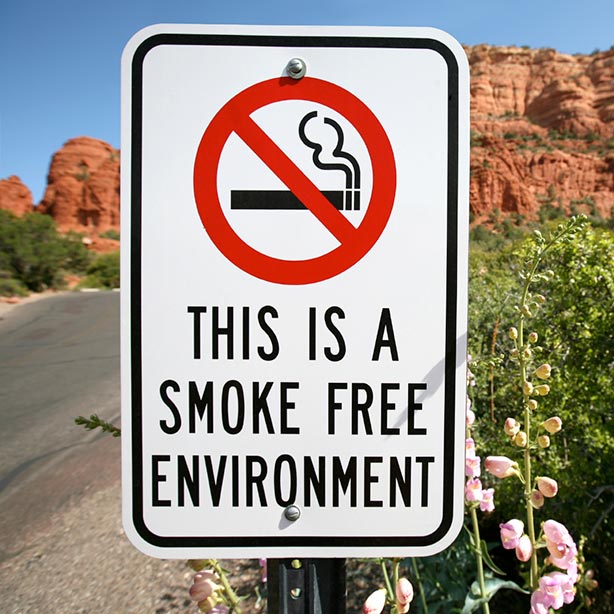 ACOSH's role in promoting smoke and vape free areas
Expanding smoke free and vape free places is a key priority for ACOSH. We are currently working with community groups and local governments to advocate for more smoke and vape free places across WA. If you are exposed to second-hand smoke in public places such as sporting clubs, Perth airport, shopping centres or health facilities, please contact acosh@www.acosh.org or call on 08 6365 5436.
Read some of our success stories below, as well as some of our current target areas for smoke and vape free legislation.
Smoke & Vape Free Cities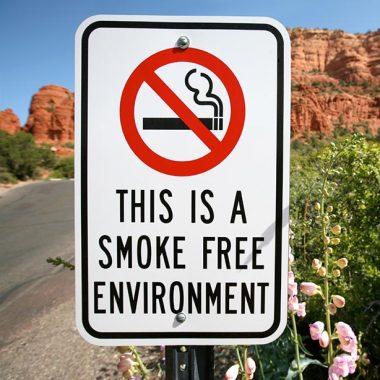 In order to achieve a smoke and vape free Australia, ACOSH is helping local governments create smoke and vape free zones in their community.
There has been a promising trend of local governments introducing smoke free areas. ACOSH have worked alongside several to help them introduce such initiatives including the Smoke Free Town Centre initiative by the City of Vincent.
There are many ways local governments can actively support a smoke and vape free WA, including: putting up smoke and vape free signage, promoting smoke and vape free events, create a tobacco action plan, and developing smoke and vape free policies or local law to create smoke and vape areas in their jurisdiction.
Check out the success stories of other local governments. If you would like to explore options for your local government, you can contact ACOSH at acosh@www.acosh.org.
Smoke and Vape Free WA Health System Policy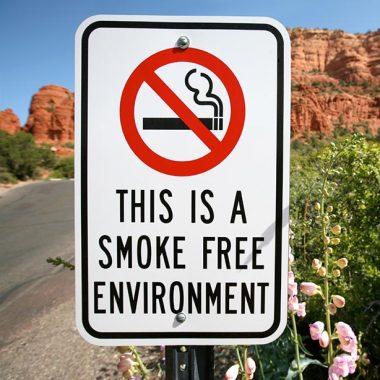 In WA, all the Health Department owned and leased premises and grounds including hospitals, community health centres, office buildings, car parks and vehicles are completely smoke free.
E-cigarettes and other tobacco products and substances are not permitted to be used in any area where smoking is restricted.
Read more about the Smoke Free WA Health System Policy:
While hospitals are smoke free, people occasionally still smoke or vape near entryways and in common areas, which can lead to ill health and put people in harms way, particularly vulnerable patients such as those with pre-existing health conditions and pregnant women. It's important for health facilities to stand against this behaviour and support the health of patients and the public.
ACOSH work with these facilities to support the effective implementation of the Smoke Free WA Health System Policy.
Smoke Free Cars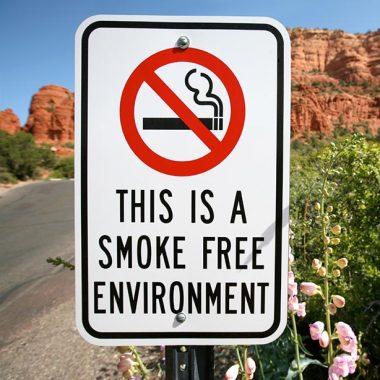 Following a 2004 survey showing over 90% of surveyed Australians (including smokers) supported banning in smoking in cars carrying children, new legislation was introduced.
This legislation was implemented on 22 September 2010, prohibiting smoking in a vehicle when a child under 17 years old is present. This legislation is an important measure to protect children from secondhand smoke.
Smoke Free Bars & Clubs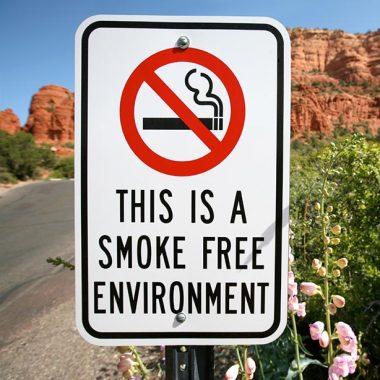 If you love the fact you can have a night out on the town without coming home smelling like an ashtray, you have WA's total ban of smoking enclosed spaces to thank.
The restrictions came into effect from 1 January 2005 and from 31 July 2006, the Tobacco Products Control Regulations 2006 made under the Tobacco Products Control Act 2006 prohibited smoking in all enclosed public places including those on licensed premises.
Outdoor Dining Areas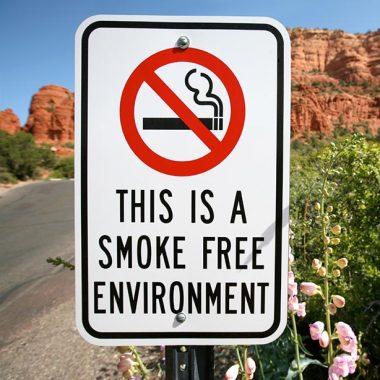 Creating a comprehensive smoke free policy for restaurant dining areas is a key achievement of ACOSH, one that has increased comfort and safety for patrons, as well as hospitality staff.
On 22 September 2010, new smoking restrictions were implemented in WA. Smoking is now prohibited in outdoor eating areas, unless the place in which the person is smoking is a designated smoking zone.
An outdoor eating area is a public place, or part of a public place:
that is provided, on a commercial basis, as an area where food or drink may be consumed by people sitting at tables and;
that is not an enclosed public place
ACOSH has also conducted a survey of patrons and people working in hospitality to assess attitudes towards regulations and possibly future change. The key survey locations included Fremantle, West Perth, Leederville and Subiaco. The survey showed that initial concerns that changes might adversely affect business were unfounded, as 64% of owners stated that the regulations had a positive impact on business; just 8% observed a negative change. Most patrons also endorsed the move.
Feet First – Aboriginal Tobacco Control Project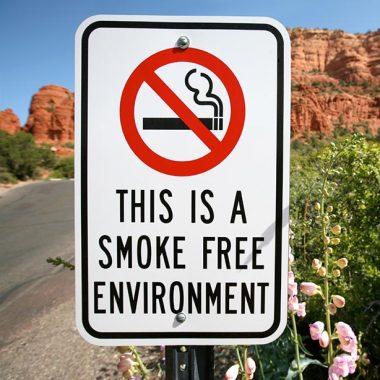 The program Feet First was created to reduce the harm of tobacco in the community of Warmun, which Is located around 180kms southwest of Kununurra.
ACOSH travelled to and worked with the community to develop tobacco control and quit strategies tailored to and informed by the community. Part of this program included the creation of four new smoke free zones in the community: the basketball courts, school grounds, recreation centre, and a buffer zone in front of the community store.
Read more about the project here.
Sporting Clubs
Sporting clubs play an important role in the community, promoting healthy lifestyles, and providing a hub of recreation and socialisation among a diverse range of people.
Making sporting clubs smoke and vape free areas ensures they are safe, inclusive, and family friendly, and promoting healthy living.
The first step to making your club, league or local sporting grounds smoke and vape free is to create a smoke and vape free policy.
Healthway offers small grants to support sports organisations to implement smoke and vape free spaces. Visit their website for more information: healthway.wa.gov.au. This website also contains a toolkit to assist people in developing activities aligned to a smoke and vape-free sporting club.
Perth Airport
Perth Airport is the gateway to WA but the current situation of smoking at the airport is sending people a poor message about our state. The health of passengers and visitors remains at risk because of a defective so-called smoking 'policy' which directs smokers to retrograde smoking shelters outside the terminals.
Smoking at Perth Airport has been an ongoing focus and one which ACOSH receives many complaints about from members of the public. Following continuing pressure from ACOSH, the airport management has made improvements with larger signage, extended smoke free zones and voice-over reminders encouraging people not to smoke in all smoke free zones.
If you have been exposed to secondhand smoke at Perth Airport and would like to make a complaint, please contact us on acosh@www.acosh.org or call on 08 6365 5436. Community complaints regarding exposure to secondhand smoke at public places are treated confidentially and are valuable for required action. ACOSH uses community complaints to offer assistance to the government and responsible compliance agencies to review and improve monitoring and enforcement processes.